This category does not contain any products at this time.
In-Home Spa Repair
Yes, SpaWorks is doing In-Home Service again! For spa repair in the greater Phoenix area call 602-992-3888.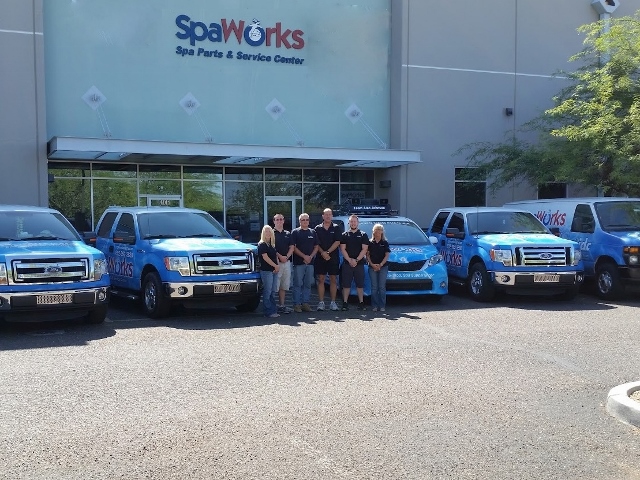 In-Home Spa Service
SpaWorks' Spa Parts & Service Center has been offering in-home spa service and repair to the Valley of the Sun since 2003, and is recognized as Arizona's premier spa service center.
Unlike most service companies, SpaWorks has an unequaled 90% first-time repair rate. This means we can often repair your spa on the first service call, saving you money! Just tell us your spa brand and model when you make your appointment.
As the Valley's premier distributor of spa repair and replacement parts, we have over 100,000 parts in our Mohawk Lane facility and our service vehicles are well-stocked. No waiting while parts are ordered, and no follow up service calls in most cases.
With the advancement of today's spa technology, it's more important than ever to work with service technicians who are qualified and current. And our technicians are the most knowledgable and skilled our industry has to offer. They are experts in spa controls, heaters, pumps, and plumbing.
Over-The-Counter Service
Want to save money? Most of us do. If you're willing to share in the work, you can potentially save hundreds of dollars on your spa repair.
SpaWorks' state-of-the-art Spa Technology Center offers a complete selection of over-the-counter troubleshooting and repair services……….controllers, heaters, pumps and motors, and even circuit board repair! With the complexity and sophistication of today's spa control systems, you want only the most experienced and skilled technicians working on your equipment. And our technicians are experts who gained their skills through decades of hands-on experience.
In-House Printed Circuit Board Repair
Don't just scrap your expensive printed circuit board! The technical staff at SpaWork's Spa Technology Center may be able to restore its functionality at a fraction of the cost of new. Inspections, testing, troubleshooting, solder/desolder, remove/reattach components, through-hole repair, replace damaged circuits, contacts, and pads, repair burns and physical damage to laminate, and more. Balboa, Jacuzzi, Sundance, and Coleman/MAAX circuit board repair specialists.